Extensive testing programme at the Werdohl Technology Centre
Specialist for high-quality pipework with the STAUFF Form pipe forming system
The extensive testing program that the STAUFF Group conducts at its Technology Centre in Werdohl, Germany includes various endurance tests and stress tests on configured hoses, i.e. hoses with the corresponding connection fittings attached according to requirements.
One of these tests is described in ISO 6803. For this test, the hoses are subjected to a continuously alternating load between almost pressure-free condition and pressure application (usually 20 to 33% through the operating pressure) without bending – at a load change frequency of 1±0.25 Hz. The number of load changes is measured until the hoses fail. This standard does not stipulate a bending load, however, so that the hoses are tested under conditions which do not reflect practical application.
Impulse Testing of Hose Assemblies at STAUFF
Dynamic pulse testing of hoses
For this reason, the so-called "omega test" as per ISO 6802 (or the "half omega test" as per ISO 8032) is used additionally. For this test, a hose is subjected to alternating bending stress which is precisely defined in the standard – again also with alternating (and precisely defined) pressure loads. This verifies the durability of the hose as well as the tightness of the connecting elements under close-to-realistic conditions with dynamic applications.
Specialist for high quality tubing
For this task, STAUFF operates several test benches at its own Technology Centre, one of which was recently extensively modernised during a building conversion and expansion and also equipped with new tubes. STAUFF employed ASK Hydraulik GmbH in Plettenberg, Germany for this and other tasks.
Short Profile of ASK Hydraulik GmbH
ASK Hydraulik GmbH, which was founded in Plettenberg, Germany in 1999, plans and builds complex hydraulic systems and units. The company also has its own cylinder manufacturing for customised projects. Another field of activity is the trade with a wide product range in the area of hydraulics and pneumatics. This also includes line components and hydraulic filters from STAUFF.
As a flexible service provider, ASK takes on tube installation for hydraulic systems on site with reliable connection systems, as in the case described here. Pressure vessel testing and press services are also handled reliably and with a high level of competence.
With this wide-ranging portfolio and a demanding market, ASK targets users of hydraulics systems not only in the local Sauerland and North Rhine-Westphalia regions but also in a wider area.
The core competences of this company include professional tube installation in hydraulic systems. Dirk Schaaf, one of the two managing directors of ASK, explains: "Our service engineers also install tubes in complex systems on site – clearly structured, flexibly and fast. This applies to new systems as well as to conversions and repair work. In addition to welding and cutting ring fittings, we also use tube forming systems, especially for complex applications. We often add our own hose service to these services."
Premiere for the assembly machine – at the manufacturer's site
The "tubing for a test system at STAUFF" project was special for all involved, because the connection system used as well as the assembly machine come from STAUFF and were therefore used at the original factory. Dirk Schaaf: "We were using two older tube forming machines from another manufacturer, which we recently replaced with two STAUFF Form machines of the latest generation."
STAUFF Form Tube Forming Machine Type SFO-F
The type SFO-F tube forming machine facilitates the economical and most reliable production of tube ends made of steel, stainless steel and other materials with a contour typical for the STAUFF Form tube forming system.
The machine is designed as a robust table-top device for continuous operation in the workshop. It is used in connection with FI-FST tube shapers and FI-FB clamping jaws. Tube shapers with FI-ID internal tube supports are used with selected tube dimensions, which prevent the tube from being constricted in the shaping area.
Tube shapers, clamping jaws and internal tube supports have been specifically designed for the mechanical forming process and can be quickly and simply replaced without the need for any tools, if required. The resulting short tool change and set-up times contribute to the high efficiency of the system as well as ensuring low cycle times.
All the tools needed for the forming process are clearly labelled with the tube dimensions so that assembly errors caused by incorrect assignment can be largely ruled out.
STAUFF Form: A reliable connection – also in test benches
This also included the change to the forming system with which STAUFF adds an "elite" product to its complete tube connection range.
A contour is formed on the end of a seamlessly cold-drawn precision steel tube or stainless steel tube using a machine with electro-hydraulic drive.
×
×
The STAUFF form ring is pressed onto the tube end with a fixed and therefore non-detachable elastomeric seal. This creates a positive connection which provides a reliable, permanent and maintenance-free seal at the only possible leakage path when used in combination with a conventional fitting body with a 24° inner cone and a union nut compliant with ISO 8434-1.
The sealing effect is supported by the system pressure of the hydraulic system, making the new tube forming system ideal for high pressure applications or for changing pressure loads.
User-friendly and safe assembly
STAUFF Form was developed with a focus on especially complex applications in stationary and mobile hydraulics where an extremely powerful hydraulic system operates with high pressure under adverse conditions such as vibrations and shocks.
When assembling the system, users benefits from a very short assembly path: They have to tighten the union nut by only 15 to 20° – without resetting the spanner and with low force application. A clearly discernible torque increase signals the end of assembly, making overtightening or undertightening virtually impossible.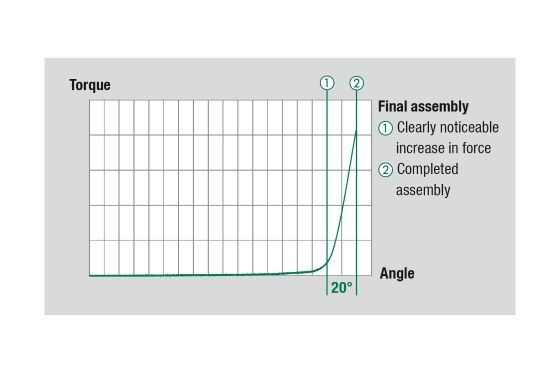 ×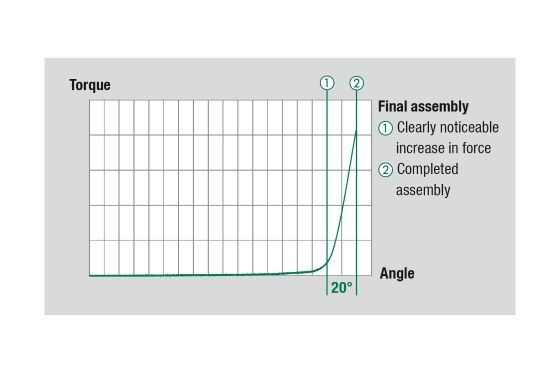 ×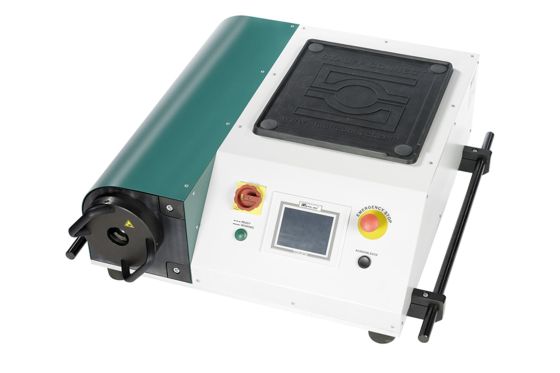 ×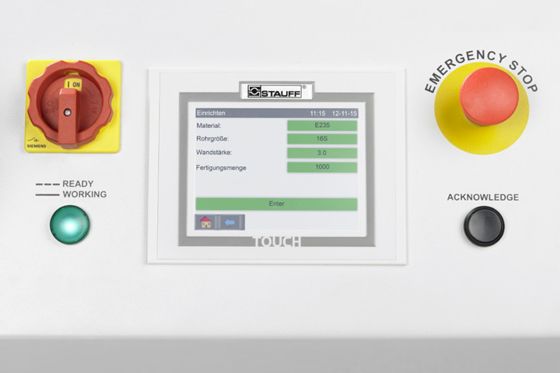 ×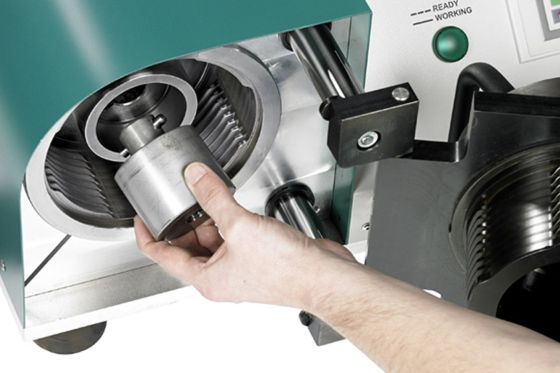 Forming machine for flexible use
The tube forming machine is at the heart of the new system. It is highly compact, extremely quiet and very easy to operate with a touch pad with plain text display. A bayonet lock makes it a snap to change the tube shapers when the tube diameter changes. This makes the machine ideal for partial automation even of small batches, which typically occur with local tube installation.
With the mobile tube forming assembly service from ASK, one of these machines now returned to the STAUFF development centre. Alexander Becker, specialist hydraulics installer at ASK, installed around 50 metres of steel tubes with diameters of DN 8, 16 and 20 in the Omega test system. Around 60 connections were established with STAUFF Form, whereby the tubes were first bent and then formed. Cutting rings or other connection types were not used in this case.
×
One of the reasons for using STAUFF Form in this system was the fact that the system pressure of the hydraulic system changes very quickly during pulse testing. The stress on the tubes, which feed the pressure medium to the test hoses in a short pulsation frequency and with a maximum pressure of 160 bar, is correspondingly high. STAUFF Form was developed for applications such as these.
Good experiences with the new forming system
The first experiences made by ASK with the new forming system have been entirely positive. Alexander Becker: "The performance of the machine is really good. It is easy to operate and delivers reproducible results." The only criticism: Becker would like fewer actuation queries to complete assembly even more quickly. But he is a highly experienced hydraulics installer and, after all, the machine should also be suitable for being operated by personnel who do not regularly configure forming connections for hydraulic systems.
ASK sees good potential for using the two new machines. Dirk Schaaf: "We are currently planning additional projects with the two forming machines and STAUFF Form and will also be using the system for other applications where we previously used other connection types."
STAUFF Tube Forming System
Performance
The patented STAUFF Form tube forming system is without doubt one of the most high-performing solutions currently available on the market for connecting metric sized tubes. Apart from its simplicity, it also provides a maximum level of safety, reliability and reproducibility.
STAUFF Form has been designed as standard for seamless cold-drawn precision steel tubes as well as stainless steel tubes with dimensions between 6 x 1.5 mm and 42 x 4 mm in the Light Series and between 6 x 1.5 mm and 38 x 6 mm in the Heavy Series. Parameters for alternative materials (copper, brass, CuNiFe, Tungum etc.) can be added by the manufacturer, if required.
System Design and Components
The system is based on standard parts and consists of only four key components:
The STAUFF Form Ring with an integrated and thus undetachable elastomeric sealing is slid onto the tube end, which has previously been mechanically contoured. This creates a positive-locking connection that provides a reliable, permanent and maintenance-free seal when used with a conventional fitting body with 24° conical bore and a union nut, both according to ISO 8434-1.
Versatility and Flexibility
Users benefit from the great versatility and flexibility of the system, as well as the many combination and adaptation options offered by using standard components from the STAUFF Connect product range.
There is therefore no need to duplicate the stock-keeping of similar components with a correspondingly high likelihood of confusion, as is often the case with comparable systems. Material and logistics costs can thus be correspondingly reduced.
Materials and Surface Finishing
Like all other components in the STAUFF Connect product range, STAUFF Form Rings are designed as standard with a high-quality zinc/nickel surface coating.
With over 1,200 hours of resistance to red rust / base metal corrosion in the salt-spray chamber in accordance with DIN EN ISO 9227, the coating offers most reliable corrosion protection far beyond previously accepted market standards.
Even after shipping, handling and assembly of the components, the coating significantly exceeds the requirements for the highest corrosion protection class K5 defined in VDMA Standard Sheet 24576 for tube connectors.
Sealing
The sealing of the only possible leakage path is provided primarily by the large-volume elastomeric sealing fitted to the STAUFF Form Ring, which is specifically positioned between the surface of the tube and the 24° conical bore of the fitting body during assembly.  
FKM/FPM (Viton®) is used as the standard sealing material and enables problem-free use of the STAUFF Form tube forming system for challenging applications involving high temperatures or aggressive media.
The unique sealing profile has a particularly large cross-section in order to provide a safe, reliable and permanent seal even in the event of unfavourable tolerances of the tube and fitting. The sealing effect is assisted by the system pressure of the hydraulic system so that the STAUFF Form tube forming system is also the perfect choice for high-pressure applications.
Pressure Resistance
When the STAUFF Form tube forming system is used in conjunction with genuine products from the STAUFF Connect product range, it provides pressure resistance of up to 800 bar in the Heavy Series and 500 bar in the Light Series (generally with a four-fold safety factor and depending on the series, design and size of the fitting body and taking into consideration various pressure reducing factors). This is the result of exceptional care taken in the development of the system and the selection, handling and processing of the raw materials.
Maximum tear-out strength can be guaranteed for the system due to the contour shaped at the tube end.
Final Assembly in the Fitting Body
Final assembly is performed by tightening the union nut until the point with clearly noticeable increase in force (fixed point). The assembly is completed with another turn by approximately 15° to 20° beyond this point.
This incredibly simple assembly method has several benefits for the user:
Considerably lower torques and short assembly paths(once the fixed point has been reached)
Significant increase in torque to clearly indicate  the end of the assembly
Maximum safety to combat over-assembly
No need for time-consuming and expensive training
Connections made with the STAUFF Form can be untightened as often as required and reassembled without wear, as any damaging expansion of the 24° conical bore of the fitting body is technically avoided.
Rate and Comment
Rate posts in the STAUFF blog with just one click or leave feedback and suggestions as a comment – without registration
The editorial team of the STAUFF blog appreciates feedback and suggestions. Accordingly, readers can now not only rate all posts, but also leave comments as guests without prior registration.
And it's that simple:
Read or view the article.
Scroll to the bottom of the page.
Rate the post with just one click.
Enter a comment.
Submit your comment as a guest (only your name is required) or create a user account.
After the comment has been reviewed and approved by the editorial team, it will be published online.
What do you think of this new feature?
Please share your opinion with us now using the rating and comments function!

Newsletter Subscription
Receive automatic e-mail notifications about new posts on the STAUFF Blog