Testing and approval for gas applications
Well-known manufacturers of motorhomes and caravans use tube couplings from the of the STAUFF Connect series are used in gas supply lines
Well-known manufacturers of mobile homes and caravans are using STAUFF Connect tube connectors in their gas supply lines. STAUFF is able to provide a DVGW type test certificate for a number of different connection and joining components with type FI-DS double-edged cutting rings, which confirms their successful testing and approval for gas applications up to 16 bar.
Camper vans need gas to provide heating, cooking and cooling in their mobile holiday accommodation. The feed line from the safety gas pressure control system to the distributor or to the individual consumers needs to be designed as a fixed tube. It goes without saying that extremely stringent requirements govern the safety and reliability of these components.
About the DVGW
The German Technical and Scientific Association for Gas and Water (DVGW) is the industry association for the German gas and water industry, headquartered in Bonn (Germany). As the recognized rule-setter for the gas and water industry and the largest industry certifier, the DVGW plays a key role in the supply of fuel gas and water in Germany. 
Learn more about the DVGW:
Gas Supply Lines in Mobile Homes and Caravans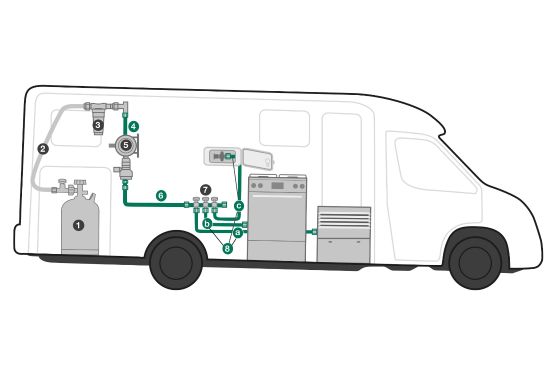 ×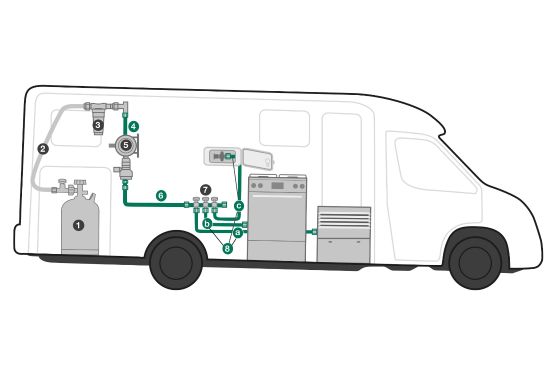 Gas cylinder
Hose to the gas filter
Gas filter
Tube to the safety gas pressure control system
Gas pressure safety control system
Tube to the distributor
Distributor
Tubes to the consuming units
a) Heating
b) Hob
c) Supply connection, e.g. for a grill
Welded precision steel tubes with diameters of 8 or 10 mm and a wall thickness of 1 mm are generally used for this. Well-known manufacturers use components from the STAUFF Connect range to connect these tubes.
The range complies with the relevant requirements, such as DIN EN 1949 ("Specification for the installation of LPG systems for habitation purposes in leisure accommodation vehicles and accommodation purposes in other vehicles") and DVGW code of practice G 607 ("LPG systems in leisure vehicles and residential units").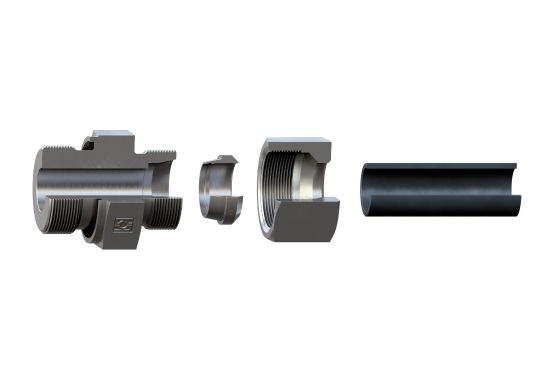 ×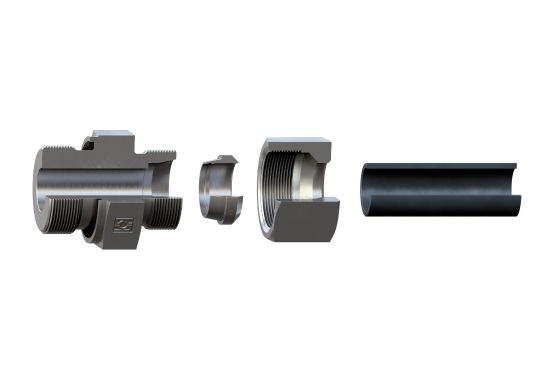 The suitability of the STAUFF Connect range in the Light Series for this application, particularly the type FI-DS double-edged cutting rings, is now confirmed by certification by the German Association for Gas and Water (DVGW). Various tests conducted in compliance with DIN 3387-1 ("Separable unthreaded pipe connections for metal gas pipes – Part 1: Connections for pipes with smooth ends") form the basis of this. The leak-tightness, internal stress resistance (pressure test), axial strength (tensile strength) and resistance to vibrations were tested, among other things.
The result: The tested components fully passed the test requirements of DIN 3387-1 and are therefore awarded a DVGW type test certification for gas applications up to 16 bar.
Apart from safety and reliability, there are other reasons why manufacturers are using these separable connecting elements: STAUFF is a one-stop supplier for the cutting rings and all other components required as well as relevant assembly machines.
The range also includes a machine developed specifically for assembly on tubes with extremely narrow bending radii, a property called for especially in mobile homes and caravans where space is very tight.
In addition, premium manufacturers, in particular, also appreciate the high-quality look and excellent corrosion resistance of the Zinc/Nickel surface coating of these components, which require no further surface post-treatment work.
Gallery with applications in which STAUFF gas supply components are typically already used as original equipment by the OEM (original equipment manufacturer):
Useful tips for laying pipes for liquid gas systems in mobile homes
Gas pipes must be laid stress-free and fixed at least every 100 cm. 

Metal tube clamps must have a protective plastic insert. STAUFF recommends the use of plastic clamps whenever possible. 

The pipe diameter must be selected so that the simultaneous supply of all gas appliances under full load is guaranteed. Attention must be paid to cross-sectional constrictions due to bending! 

Pipes must be protected against corrosion if necessary, especially if they are laid under the vehicle floor. The galvanisation of the steel pipes usually available in the camping trade is not sufficient for outdoor use. STAUFF recommends the use of pipes with Zistaplex® coating with highest corrosion protection due to additional organic coating. 

Open, unused line openings or free outlets on the distribution block must be sealed with blind plugs and union nuts. 

Gas lines must not come into contact with electrical lines. The distance between parallel lines must be at least 30 mm, and 10 mm at intersections. 

Pipe screw connections in the gas pipe must be accessible at all times. As few separation points as possible should be installed. 

When laying the pipes through walls, they must be laid in such a way that they do not chafe even when vibrated. Please plan for sufficient clearance or use pipe bushings made of rubber. 
Rate and Comment
Rate posts in the STAUFF blog with just one click or leave feedback and suggestions as a comment – without registration
The editorial team of the STAUFF blog appreciates feedback and suggestions. Accordingly, readers can now not only rate all posts, but also leave comments as guests without prior registration.
And it's that simple:
Read or view the article.
Scroll to the bottom of the page.
Rate the post with just one click.
Enter a comment.
Submit your comment as a guest (only your name is required) or create a user account.
After the comment has been reviewed and approved by the editorial team, it will be published online.
What do you think of this new feature?
Please share your opinion with us now using the rating and comments function!

Newsletter Subscription
Receive automatic e-mail notifications about new posts on the STAUFF Blog