Number Eight in the Global Network
The Italian STAUFF company is already the eighth subsidiary in the global network that offers machine and plant manufacturers bent tubing prepared for assembly as an essential part of STAUFF Line
STAUFF Italy is already the eighth branch in the global network to offer OEM manufacturers of machinery and equipment manipulated and ready-to-assemble pipes and tubes as an essential part of the STAUFF Line approach.
Already in mid-2021, the Italian STAUFF company has opened its own tube bending plant in Oggiono, located 8 km from the main plant in Suello north-east of Milan. Now that hose crimping has also been relocated to the new site, a real production plant for STAUFF Line has been created in Oggiono.
Just a few months after opening, STAUFF Italy is already supplying machine and plant manufacturers in various industries with individually designed and ready-to-connect pipe, tube and hose assemblies for hydraulic systems.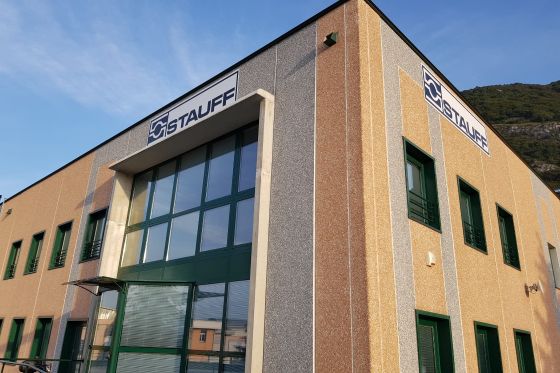 Italy
Suello (LC)
STAUFF Italia s.r.l
Via Borima 21
(Frazione Borima)
23867 Suello (LC)
Domenico Modesto, Managing Director of STAUFF Italy, describes the advantages: "By commissioning our own tube bending shop, we can relieve our customers of complex and safety-relevant manufacturing steps. Those who source pipes and tubes or entire assemblies from STAUFF that only need to be final assembled on site save assembly time and reduce the risk of assembly errors. Safety and efficiency increase, procurement costs are reduced and significantly fewer components have to be stocked by the customer."
With the two new bending machines, tubes in all common materials and with diameters from 6 to 55 mm can be bent into highly complex shapes. Components such as cutting rings and union nuts are assembled  and pipe ends are prepared by forming or flaring. Additional or alternative work steps can include, for example, the welding and soldering of connecting parts with subsequent coating or surface finishing. The pre-assembly of further system components such as clamps, flanges, ball valves, manifolds etc. – all from our own development and production – is also possible.
Equipment and Services of the Tube Bending Centre at STAUFF Italy
Machines for sawing/cutting to length and deburring pipes and tubes
Two bending machines for tubes in all common materials with diameters from 6 to 55 mm
Measuring arm for sample tubes and for ongoing quality control
Machine-assisted assembly of cutting rings and union nuts
Tube end forming with STAUFF Form and STAUFF Form EVO
Tube end forming for JIC and ORFS connections
Inductive soldering, brazing as well as WIG, MIG and MAG welding for non-positive connections with subsequent coating or surface refinement
Tests according to standard or customer specifications
Testing according to standard or customer's specification
Cleaning with STAUFF Clean  to achieve specific cleanliness levels and specifications
Sealing and protecting the tube ends and other connections
Pre-assembly of further system components such as clamps, flanges, ball valves, manifolds etc.
"With our own tube bending shop, we now offer all the advantages of STAUFF Line," explains Domenico Modesto. STAUFF Line is deliberately designed as a scalable offering, ranging from the supply of individual components to the production of complete assemblies. "Our customers generally benefit from the fact that we, as a full-range supplier, keep all components related to hydraulic line systems on hand. Now we can take responsibility for entire line sections from connection to connection if desired." STAUFF Italy was founded in 2000. The production of hose assemblies has been part of the offer since 2020.
In addition to Italy, STAUFF has invested heavily in tube bending centres in Australia, Brazil, Germany, India, Russia, the United Kingdom and the United States in recent years. These locations now offer assemblies including manipulated pipe and tubes. In other countries and regions, STAUFF LINE System Partners take on this task.
The model for all locations is the global competence centre for tube processing at the British subsidiary STAUFF UK. Here, the design and manufacture of complex piping systems has been part of day-to-day business for over 30 years. Every STAUFF location that expands its portfolio to include curved tubing can access this experience in the international transfer of knowledge. Domenico Modesto: "As part of the international STAUFF network, we can guarantee our customers to be supported worldwide with the same know-how and service."
STAUFF Center of Excellence for Tube Manipulation
With its headquarters located in Sheffield (United Kingdom), STAUFF UK Ltd. forms the Global Center of Excellence for tube manipulation within the STAUFF Group. For almost 30 years, the design of complex pipework systems and the  manufacturing and processing of tubes in accordance with customer requirements has been part of the daily business of the specialists on site.

Start your virtual 360° tour through the
STAUFF production and assembly areas
in Sheffield (United Kingdom)!
Rate and Comment
Rate posts in the STAUFF blog with just one click or leave feedback and suggestions as a comment – without registration
The editorial team of the STAUFF blog appreciates feedback and suggestions. Accordingly, readers can now not only rate all posts, but also leave comments as guests without prior registration.
And it's that simple:
Read or view the article.
Scroll to the bottom of the page.
Rate the post with just one click.
Enter a comment.
Submit your comment as a guest (only your name is required) or create a user account.
After the comment has been reviewed and approved by the editorial team, it will be published online.
What do you think of this new feature?
Please share your opinion with us now using the rating and comments function!

Newsletter Subscription
Receive automatic e-mail notifications about new posts on the STAUFF Blog