Order as a guest or with your online user account for further advantages
1. Search & Find
Use the search field or our product navigation to find products:
Search Field
Search pages and products

Product names, STAUFF material numbers and cross referencing of competitor names
Use the search field
Product Navigation
Follow the category path

Step by step to the desired product

Narrow down the products using a variety of filter options
Cross Referencing of other Manufacturer Descriptions
Find the right STAUFF product easily with cross referencing:
Search for the description in the search field
Details of the manufacturer in the search results
2. Prices & Availability
On the product detail page you will find all the information about the product:
Optional Actions
Enter desired quantity
Check price and availability live in the system
Add product to shopping cart or to project list and save for later
Information 
Various product information e.g. material, standard, packaging unit, customs tariff number, country of origin and much more
Direct access to the page in the online catalogue
Benefit for existing customers: Individual price conditions directly displayed
Enquiry List
Directly request products that are currently unavailable:
When uploading the quick order
Directly in the search field or in the search results
On the product detail page
⚠️ You also have the option of requesting your individual pricing in this way. Please feel free to attach further information and files (e.g. technical drawings) to your enquiry or give your order number so that the desired products can be added to the order.
Do you still have questions about STAUFF products?
The STAUFF sales team will be pleased to help you!
3. Shopping Cart & Order Processing
Your order overview with configuration options and your individual pricing at a glance:
Information 
Your individual pricing

Availability of the articles

Information about the weight

Optional: Enter voucher code (1x per order)
Share Shopping Cart
Click on   to send the compiled shopping cart via link.
Recipients will have all products added to their own shopping cart by clicking on the link.
This way you can share products and orders with your whole organization in just a few seconds.
Specify Preferred Delivery Date
If not specified, fastest possible delivery

For specific items or complete order
⚠️ If you want express shipping, you must also select the "as soon as possible" shipping option.
Select Complete Delivery
Depending on selected shipping method

For complete order
Register or checkout as a guest without an account
Benefits of registration: Direct access to orders & other features
Delivery & Billing Address
One-time delivery address within the EU

Set default addresses with one click
💡 Tip: If you enter your mobile phone number with the delivery address, you will receive updates on your delivery via SMS.
Select Shipping Method
Within Germany:

Standard/ Parcel service: 7,99€

As soon as possible/ Express: 12,99€

Prices may vary for delivery on country

Shipping costs are shown shortly before the purchase is completed.
⚠️Important: For orders received by STAUFF before 2:00 p.m., the goods will be dispatched that day if you choose express dispatch or the next day if you choose parcel service.
Payment
MasterCard and VISA
Only credit cards with 3-D Secure protocol (2-factor authentication) are accepted.
PayPal
After confirming the purchase, you will be directed to the PayPal login page. Once you have logged in with your PayPal account, you can finalise the purchase.
Klarna / Online Bank Transfer
After submitting your order, you will be redirected to Klarna. Please have your login data for your bank account ready.
Summary
All order details summarised for you
Set your own order number
Place order
Shop-Orders
An overview of all your orders in the STAUFF Online Shop.
Simply reorder with just one click.
⚠️ Only the orders that you have placed personally are displayed.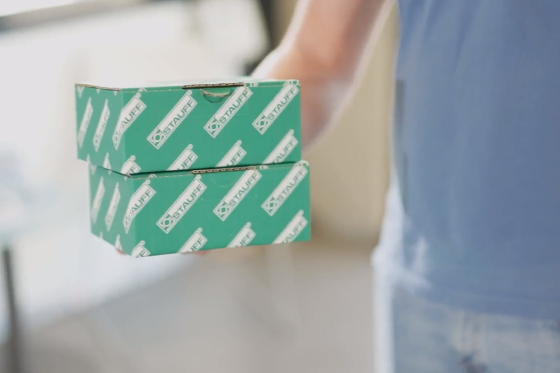 Documents by E-Mail
Order confirmation
Purchase order confirmation
Delivery note
Invoice
Delivery of Goods
Do you have any questions?