The SDMKR reversible flow meter from STAUFF has been developed for the rapid and accurate monitoring of hydraulic components and systems in mobile hydraulics systems (e.g. in construction, agricultural and forestry machinery and equipment).
The unique design allows the simultaneous measurement of the three parameters most important for the proper functioning of the system: flow, pressure and temperature.
The device makes it possible for maintenance professionals to determine the performance of pumps, motors, valves or cylinders, as well as of complete systems, thereby ensuring that they function properly.
×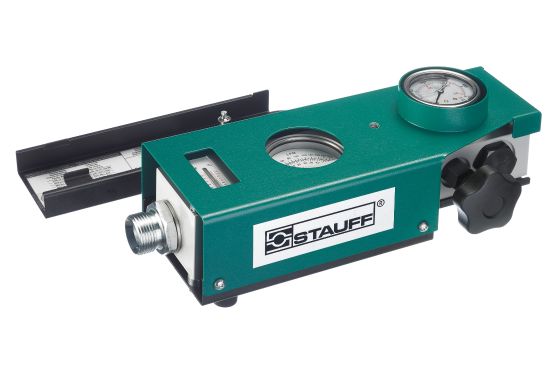 Thanks to the compact, practical and yet robust design – with a sturdy steel frame, a removable protective cover and shockproof displays – the SDMKR is perfectly adapted to a wide variety of applications in construction, forestry and agricultural machinery, either on location or in the workshop. 
The portable flow meters are integrated in the hydraulic circuit only for the duration of the system test. For this purpose, they are equipped as standard with BSP connection threads on the input and output, and can be installed in both pressure and return lines.
Flow Meters in the STAUFF Online Shop
STAUFF Online Page-Flip Catalogue
Navigate and search content, forward via email, print and download in PDF format